Winter Parking
We would like to remind everyone that starting November 15th, the winter parking ordinance will go into effect.  This means that vehicles/trailers/RV's, etc., CANNOT be parked on the city streets, curbs, and shoulders between 1:00am and 5:00am on any day.  Please let your family and friends know, as well as your renters if you have them, as citations will be issued during these hours.  Do not put your garbage/recycling out the night before if it looks like there will be snow during the night.  During other hours, if it is snowing, or beginning to snow, we would appreciate your not parking on the street so that our snow plows can keep your roads clean and safe for you and your family.  Thank you.
Proposed Sewer User Fee Increase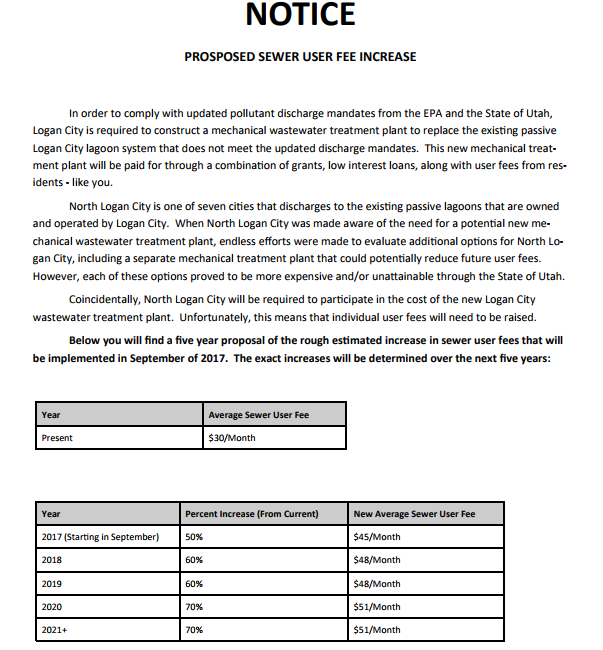 Dog & Cat Licenses
The Dog and Cat License requirements have been updated.
After your pet receives their new rabies vaccination, please bring your vaccination certificate into the office to renew the city license within 14 days of your due date.  Please make sure your vet has notated if your pet is spayed or neutered on the certificate.
North Logan City Council has increased license fees an additional $5.00 on November 1st, 2017. This change can also be viewed in the Master Fee Schedule for North Logan City and is therefore a city ordinance. City Council has also changed the city ordinance so that CATS NO LONGER NEED TO BE LICENSED. Please continue to vaccinate your cats.
The license fee is $25.00 for dogs not spayed or neutered and $15.00 for spayed or neutered dogs. Late fees are charged for pets not licensed and animal control officer will be notified.
Please do not mail in your payment, you will need to come into the North Logan City Office to renew pet licenses.
If your pet is no longer part of your household, or you no longer live in North Logan City, please let us know so that we may update our records.  Our phone number is 435-752-1310 extension 10.
Dogs and house cats are required to be vaccinated for rabies and licensed with the city within 30 days of the vaccination.  License are valid for the same period as the vaccination period.  The first year rabies expires in 12 months and so does the  city license.  There after the rabies expire in 3 years and the city license would also expire in 3 years.
To license your animal bring proof of rabies vaccination and also neutered or spayed if your animal has been fixed, into the office to get their license.  The cost of a license is $10.00  for neutered/spayed dogs and $20.00 for non neutered/spayed dogs.  Only 2 dogs/four cats are allowed on residential property zoned less than one acre.
The HEAT Program
The HEAT Program is a federally funded assistance program designed to help low-income, elderly and disabled households with home energy costs.
The HEAT program is open Nov 1 through April 30th or until federal funds are exhausted.
Eligibility and benefit amounts are determined by number of U.S. residents or permanent residents in the household, household income, household size and energy costs (fuel and electric bills). Household must be under 150% of the Federal Poverty Level.
HEAT benefits are a one-time payment and will not cover your entire winter heating costs.
The HEAT Program is located in the BRAG Offices at 170 N Main in Logan.
To schedule an appointment please call 435-713-1444.
See flyer here.
Request for Proposal
Design of Community Center. Details can be found here.
Lost and Found
If you have found an item in one of our parks or through out the City please bring it to the City Offices located at 2076 N 1200 E to be placed in the City Lost and Found. If you have lost an item you can contact the City Offices at 435-752-1310 or visit the City Offices to see if the item has been found.
North Logan City Exemplary Award Winners 2017