Proposed Sewer User Fee Increase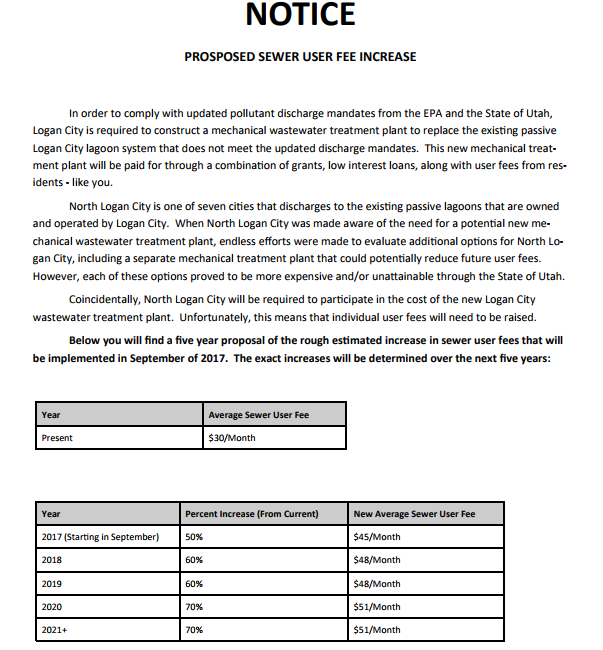 Utilities
North Logan provides and bills for water, sewer, garbage, stormwater and dispatch.  To set-up services, please come to our office at 2076 North 1200 East, Monday thru Friday between 8:00 a.m. and 5:00 p.m. to complete a utility agreement.  Bring your driver's license for verification.  If you are renting from a landlord, you will be required to pay a deposit.  Residential customers will be charged a $100.00 deposit and commercial customers will be charged a $300.00 deposit.
The garbage service is managed through Logan Environmental but the billing is through North Logan City.  If you want to change can sizes, add a service or have questions, you can call Logan Environmental at 435-716-9755.  Their address is 153 North 1400 West in Logan City.
Payment options for your North Logan City bill are as follows; come into the office with a check, cash or credit card; sign-up for Direct Pay (your payment will come out of your account each month on the 15th) bring a void check into the office and sign a authorization form if you are interested; mail a check; drop your payment off in our drop box at the head of our parking lot; drop a payment off at Lee's Grocery Store, pay with your bank's bill pay; follow the link (https://secureinstantpayments.com/sip/?ID=20462) to Instant Payment (there is a fee for this service); you can call the office and pay with a credit card however there is a $3.95 charge for that service.
Electricity is provided by Rocky Mountain Power.  Contact Rocky Mountain by logging onto www.rockymountainpower.net.  Click on Go to your account, then go to start, stop or move and follow their directions.  You can call their customer service number 888-221-7070.
Natural Gas is provided by Questar Gas.  Contact Questar by logging onto www.questargas.com.  Click on New Customer and following their directions.  You can call their customer service number at 800-323-5517.